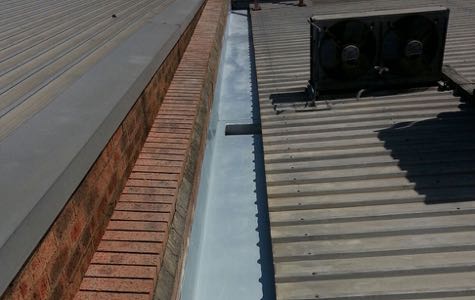 Commercial Box Gutters
Box gutters are most usually found on commercial buildings and factories. They differ from regular gutters in that they are generally much wider and made from a custom bent piece of sheet metal.
A box gutter needs to be larger because its purpose is to get water from a large flat roof down to the ground as quickly as possible and prevent water leaking into the roof space.
Due to the commercial box gutter being so wide and flat, they are prone to rust and leaks, as water can sit in them for long periods of time.
If this is something you've experienced, you'll also know how hard it is to find a roof plumber willing to replace commercial box gutters. But it's not a problem at AllCoast Roofing. We are ready, willing and able to measure and install commercial box gutters.
Installation of Box Gutters
There's a number of installation methods associated with box gutters. We've seen a variety of custom brackets and hanging systems installed on commercial buildings. A common one is a specialised bracket that mounts to the "rib" of a standing seam roof, then attaches to the lip of the eaves-trough. Another is an adjustable rod and nut system common to half round style guttering.
Because most commercial box gutters come in 3 metre sections — which makes it necessary to rivet, seam and seal the lengths together and make them waterproof — your installer must be an experienced roofer.
Box Gutter Leaf Guard Installations
Box gutters are commonly found on industrial and commercial roofing but they are becoming more common in modern residential roofing. They are boxed in all around and prone to internal flooding when filled with a lot of leaves. We recommend keeping your box gutter clear by installing leaf guard.  We can install your gutter guard to fit any sized box gutter. We pre clean and flush out debris from your box gutter before installation, then we lay the gutter mesh tailored to fit.
Any questions? Call us today on 0411 132 583.
We use and recommend Roof Protect industrial roofing membrane. 
We also install Gutter Guards. To have someone supply and install gutter guard for you, visit our gutter guard FAQ.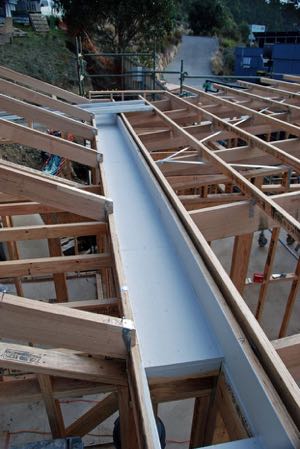 Our Services
Or fill in this form and we'll call you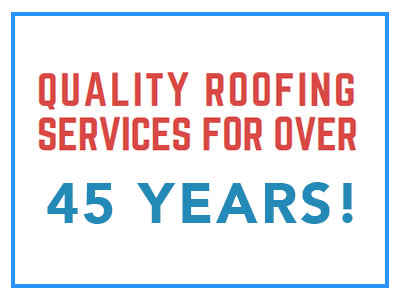 Highly recommend these guysThey came out and inspected my roof to see where the leak was coming from and repaired... read moreHighly recommend these guysThey came out and inspected my roof to see where the leak was coming from and repaired it straight away..Very happy that the jobs finally doneConsidering I've rung 3 other roofing services and left messages and didn't get any call backsThanks Allcoast👍 read less
Rix
2/18/2022

Got Wayne and his team to do a roof restoration and minor repairs.Great job, communication was excellent (the weather wasn't... read moreGot Wayne and his team to do a roof restoration and minor repairs.Great job, communication was excellent (the weather wasn't kind) and very professional. read less
David Williams
11/09/2021

I would definitely recommend this business. Prompt, professional and my roof looks great. The price was very good and the... read moreI would definitely recommend this business. Prompt, professional and my roof looks great. The price was very good and the service was exceptional. I am very happy with all my dealings with this company and the results I got. read less
Lorraine Burkin
10/16/2021

Wayne and his team from Allcoast roofing service did a fantastic job of restoring and re-painting our roof. They... read moreWayne and his team from Allcoast roofing service did a fantastic job of restoring and re-painting our roof. They turned up on time and got to work and did a fantastic job. We are thrilled with the outcome and would highly recommend them. Our place looks like a new home!! Thanks guys for a great job. read less
Jim Horton
9/28/2021

Wayne and his team did a fantastic job. My roof looks fab. Highly recommend
Jenni Summer
9/23/2021

We recently had our roof restored and repainted and couldn't be happier with the results. Wayne was always very responsive... read moreWe recently had our roof restored and repainted and couldn't be happier with the results. Wayne was always very responsive and professional. Highly recommend Allcoast Roofing! read less
Tabitha Lauret
8/26/2021

I had repairs to the roof including replacing clips above garage, several tiles replaced, repointing of ridge tiles, roof cleaning... read moreI had repairs to the roof including replacing clips above garage, several tiles replaced, repointing of ridge tiles, roof cleaning and painting done. From an old tatty roof in bad repair, I now have a roof that looks like new. Am so pleased with the job and the way that Wayne conducts and oversees his business. He was professional and knowledgeable. I would definitely recommend Allcoast to anyone who needs their roof renovated and repaired. read less
Pam
6/28/2021

All work was completed to an exceptional standard and was very competitively priced. Would highly recommend All Coast Roofing, Wayne... read moreAll work was completed to an exceptional standard and was very competitively priced. Would highly recommend All Coast Roofing, Wayne and his team were very helpful. read less
Michael Mitchell
6/28/2021