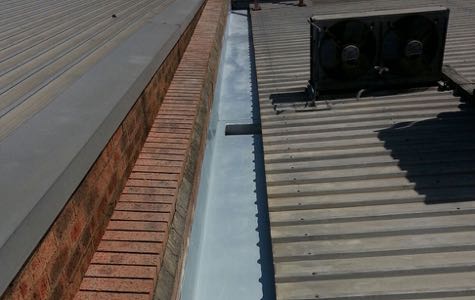 Box Gutter Service
---
Commercial Box Gutter Experts
Box gutters are most usually found on commercial buildings and factories. they are different from regular gutters in that they are generally much wider and made from a custom bent piece of sheet metal.
A box gutter needs to be larger as it's trying to get water from a large flat roof down to the ground as quickly as possible, while reducing the chance that water can leak into the roof space.
Due to the commercial box gutter being so wide and flat, they are prone to rust and leaks as water can site in them for a lng period of time.
If this is something you've experienced, you'll also know how hard it is to find a roof plumber who is willing to replace commercial box gutters. But you won't have those problems with Allcoast. We are very comfortable with measuring and installing commercial box gutters.
Installation Of Commercial Box Gutters
There's a number of installation methods associated with box gutters. We've seen a massive variety of custom brackets and hanging systems installed on commercial buildings. One common way is a specialized bracket that mounts to the "rib" of a standing seam roof and then attached to the lip of the eavestrough. Another is an adjustable rod and nut system common to half round stylle guttering.
Your installer must be an experienced roofer. This is because most commercial box gutters come in 3 metre sections which makes it necessary to rivet, seam and seal the lengths together and make them waterproof.
Have you got questions? Call us today on 0411 132 583.
We use and recommend Roof Protect industrial roofing membrane.
For more information, visit our homepage.