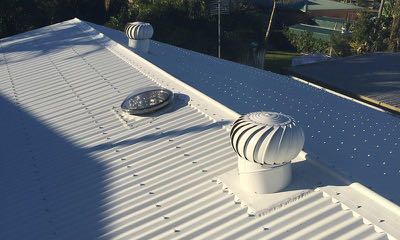 Gold Coast Whirlybirds
---
Whirlybirds Supplied & Installed
Are you looking for the best ways to improve your roof ventilation? Are you asking yourself, do whirlybirds really work? We all know that wherever you are in Australia, the weather can get pretty hot.
Our high quality, roof mounted, aluminium roof vent combines modern design with high tech features for guaranteed long lasting performance.
Ventilator Whirlybirds are wind driven turbines designed to exhaust heat & moisture from the roof space of a home, without the use of electrical energy. Constructed from light-weight aluminium, it comes with a 15 year warranty for long lasting peace of mind and comfort in your home.
Available in an extensive range of 28 colours to suit most roof options.
---

---
Supavents Whirlybirds
The number of roof vents you will need will vary based on your roof size and reasons for ventilating. As a general recommendation, 1-2 whirlybirds is sufficient per 90m2 of roof space.
However, for the best ventilating results, contact the Allcoast team and we can help you with a solution custom to your needs. Moisture in your home can be a destructive force, causing wood rot and encouraging mould and mildew. These in turn can trigger asthma and allergies. Edmonds roof ventilators expel moist air helping to protect the integrity of your home and the health of your family.
SupaVent is ideal for tiled roofs as it only needs one tile to be removed for installation. The light-weight, UV and temperature stable plastic head, with a 250mm opening and stainless steel bearings provide a good alternative to WindMaster and make Whirlybirds ideal for homes close to salt spray.
We use and recommend Roof Protect industrial roofing membrane.
For more information, visit our homepage.