Gold Coast Roofing Specialists
AllCoast Roofing Service has been active on the Gold Coast for over 35 years.
Book a team of registered, licensed roofing professionals.
Or fill in this form and we'll call you
Gold Coast Roof Painting and Restoration
Roof Painting Gold Coast Price
The average cost of tile roof painting is around $2,500 to $7,000 plus GST. The cost of roof painting can vary, depending on the size of the roof, the material and condition of the roof, the type of paint being used, whether it is a single or double story and the complexity of the job. Contact us for a free roof paint quote.
Roof Restoration Gold Coast Price
Tile roof restoration costs include installation of sarking, this could start at $10,000 and can exceed $25,000 plus GST depending on the size of the roof and the type of tiles. Roof restoration is a more expensive job that includes removing battens and roof tiles, installing sark and reinstalling tiles. Contact us for a free roof restoration quote.
Expert roofers servicing the Gold Coast for over 35 years
Fully licensed, WorkCover and Public Liability insurance
Gutter and Downpipe Replacement
Gutters and Fascia Covers
New Gutters and Fascia Covers
We use the highest quality products including Dulux Acratex 962 Roof Membrane carrying a 12 year warranty.

Our Gold Coast services include roof restorations, ridge capping repointing, fixing concrete tile, terracotta and Colorbond roofs.
Allcoast Roofing has been providing roof restorations, and repairing and re-roofing homes throughout the Gold Coast for more than 35 years.
We also install whirlybirds including the latest solar powered roof vents.


Do you have guttering or roofing problems?
We provide a range of roofing and guttering services for repair, replacement and general maintenance to all types of roofing or guttering for residential homes, strata properties and commercial buildings.
Get help with roof repairs
Frequently asked questions
What is the best roof colour to use?
Should I use heat reflective paint?
Are some roof paint brands better than others?
Is this the best paint for the condition of my roof?
If I use a cheaper brand, will it cost me more in the long run?
Do I have the right equipment for the job?
Can I physically manage to do the job?
About Us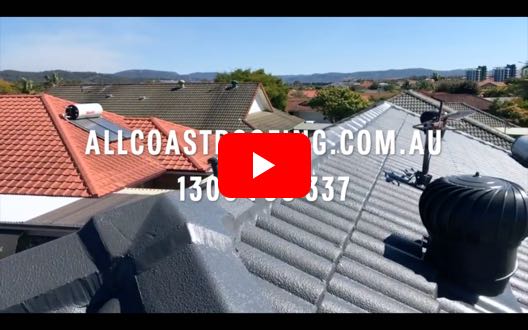 ---