Roof Repairs & Roof Restoration Gold Coast
Allcoast Roofing Service has been active on the Gold Coast for 25 years. We're registered & licensed and our team of professionals have a total of over 50 years of experience.
We use the highest quality products including Roof Protect Nano-Glaze roof membrane carrying a 12 yr warranty.
ROOF RESTORATION
Our Gold Coast roof restoration service includes roof pressure cleaning, ridge capping repointing and roof painting.
Our team can fix all concrete tile, terracotta and Colorbond roofs.
We also install whirlybirds including the latest solar powered roof vents.
RE-ROOFING & GUTTER REPLACEMENT
We can perform gutter replacement, downpipe replacement & fix rusted valley irons.
Our team can perform major roof repairs including re-roofing, tiling of extensions and sarking replacement. We also supply 2nd hand roof tiles to suit your home.

ROOF REPLACEMENT & REPAIRS
Our service includes commercial roof replacement of factory roofs including rusted box gutters, leaks and whirlybird installation.
We also install the latest solar powered commercial roof vents.
We can repaint factory roofs as well.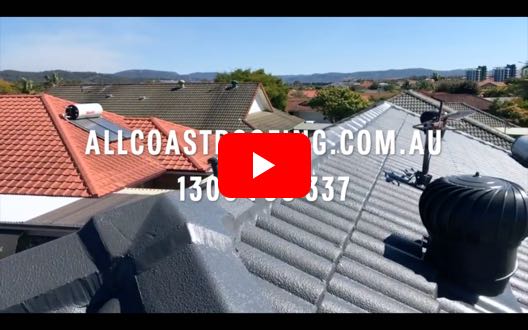 ---
Frequently asked questions
Which is the best colour to use?
Should I be using heat reflective paint?
Are some brands better than others?
Is this the best paint for the condition of my roof?
If I use a cheaper brand, will it cost me more in the long run?
Do I have the right equipment for the job?
Can I physically manage to do the job?
More About Us
Quality Roof Painting Gold Coast
Roof painting can be a difficult task for the novice. It takes the right type of product and the right tradesperson to get the job done properly.
Lucky we are the best team on the Gold Coast. Our Gold Coast roof restoration service includes thorough roof pressure cleaning, professional repoint of the ridge capping and then painting.
The Roof Restoration Process:
The Allcoast Roofing roof restoration process takes care of everything your roof needs, from tile roof repair through to a fresh new look. We take the time to make your roof water tight and looking stunning.
The roof restoration process is:
We install temporary edge protection or safety harnesses to make sure we can work safely

Next, we can re-bed and repoint the ridge capping to ensure it's water tight

Any broken roof tiles, ridge caps or barge caps are replaced

Next we clean the roof using high pressure water blasters. This removes any built up dirt and moss

The whole roof is cleaned with a blower vac to remove the last of the leaves and debris from the roof and gutters

A cost of primer/sealer is now applied to the roof to allow time for it to soak into the porous tile

Two or more coats of Roof Protect roofing membrane is applied to the roof in a colour of your choice

We can then apply an optional coat of Nano Glaze on top to make the roof look extra glossy

You can also choose an optional heat reflective paint option

The site is then thoroughly cleaned up and the safety rail is removed

Lastly, we perform a site inspection to make sure everything has been completed to the highest standard
There's so many reasons to give us a call at Allcoast Roofing to get a quote for roof restoration or roof repairs. Call 1300 ROOFER today.