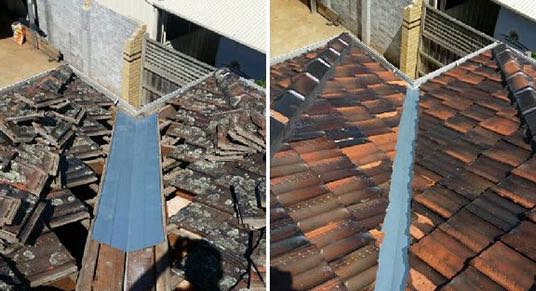 When to Replace A Roof Valley
When we are on your roof repairing the ridge cap repointing on your tiled roof, we will take a look at the valleys as well for you. If they are showing any sign of rust, it's best to change the valleys before the ridge capping work.
Otherwise, if the valley is changed after the ridge caps are repointed - the ridge capping work will have to be done again!
If the rust is too bad to repair, we will recommend replacing it with new Colorbond valleys that are colour matched to the roof tiles. We prefer installing colour matched valleys as they look good, and last longer - at no extra cost to you.
We can replace worn or rusted valleys, flashings, box gutters, worn metal skillions, and skylights.
We use and recommend Roof Protect industrial roofing membrane.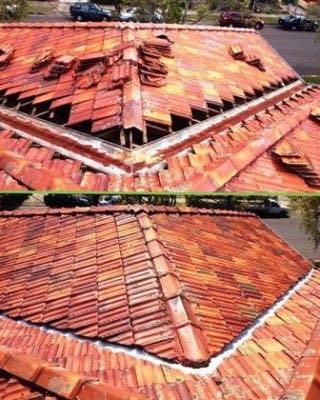 Valley Repairs on the Gold Coast
Most roofs have several valleys. A valley is that section of your roof where two slopes join at an angle.
Rusted or damaged valleys are some of the most common causes of leaks in your roof.
Valleys should normally last well over 45 years, but their life span is shortened as corrosive debris builds up, especially if your roof is under trees. In this case, the valleys will need frequent cleaning and rust-proofing to extend their life and prevent leaks.
If your valleys have started to rust, an inexpensive solution is to prepare the surface and paint it with a special cold galvanising paint that will slow the rust and extend the life of your valleys for years to come.
Galvanising paint is a cheaper option because the ridge capping won't need to be cracked in order to replace the valley.
Our Services
Or fill in this form and we'll call you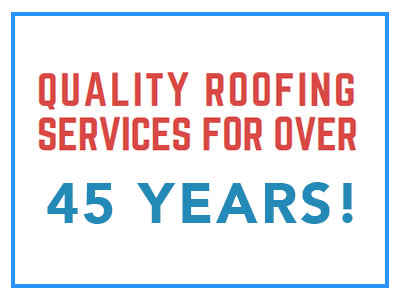 Highly recommend these guysThey came out and inspected my roof to see where the leak was coming from and repaired... read moreHighly recommend these guysThey came out and inspected my roof to see where the leak was coming from and repaired it straight away..Very happy that the jobs finally doneConsidering I've rung 3 other roofing services and left messages and didn't get any call backsThanks Allcoast👍 read less
Rix
2/18/2022

Got Wayne and his team to do a roof restoration and minor repairs.Great job, communication was excellent (the weather wasn't... read moreGot Wayne and his team to do a roof restoration and minor repairs.Great job, communication was excellent (the weather wasn't kind) and very professional. read less
David Williams
11/09/2021

I would definitely recommend this business. Prompt, professional and my roof looks great. The price was very good and the... read moreI would definitely recommend this business. Prompt, professional and my roof looks great. The price was very good and the service was exceptional. I am very happy with all my dealings with this company and the results I got. read less
Lorraine Burkin
10/16/2021

Wayne and his team from Allcoast roofing service did a fantastic job of restoring and re-painting our roof. They... read moreWayne and his team from Allcoast roofing service did a fantastic job of restoring and re-painting our roof. They turned up on time and got to work and did a fantastic job. We are thrilled with the outcome and would highly recommend them. Our place looks like a new home!! Thanks guys for a great job. read less
Jim Horton
9/28/2021

Wayne and his team did a fantastic job. My roof looks fab. Highly recommend
Jenni Summer
9/23/2021

We recently had our roof restored and repainted and couldn't be happier with the results. Wayne was always very responsive... read moreWe recently had our roof restored and repainted and couldn't be happier with the results. Wayne was always very responsive and professional. Highly recommend Allcoast Roofing! read less
Tabitha Lauret
8/26/2021

I had repairs to the roof including replacing clips above garage, several tiles replaced, repointing of ridge tiles, roof cleaning... read moreI had repairs to the roof including replacing clips above garage, several tiles replaced, repointing of ridge tiles, roof cleaning and painting done. From an old tatty roof in bad repair, I now have a roof that looks like new. Am so pleased with the job and the way that Wayne conducts and oversees his business. He was professional and knowledgeable. I would definitely recommend Allcoast to anyone who needs their roof renovated and repaired. read less
Pam
6/28/2021

All work was completed to an exceptional standard and was very competitively priced. Would highly recommend All Coast Roofing, Wayne... read moreAll work was completed to an exceptional standard and was very competitively priced. Would highly recommend All Coast Roofing, Wayne and his team were very helpful. read less
Michael Mitchell
6/28/2021