Roof Replacement Services
---
No.1 Roof Replacement
Are you considering a roof replacement for your home or business?
Our team here at Allcoast Roofing can help you to replace your old tile or metal roof with a new lightweight Colorbond roof. Maybe you'd like to have a new tile roof installed? In either case, we are fully qualified to replace your roof.
We offer a complete roofing service and will take care of the whole job including insulation and thermal blankets, guttering, removal and re-installation of solar panels, TV antennas and vent pipes.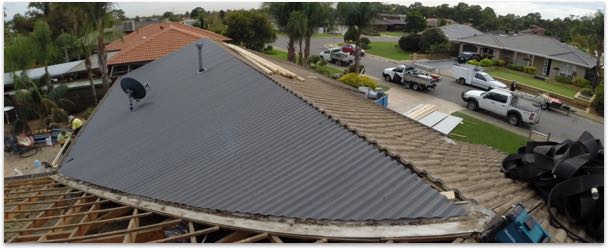 Tile Re-Roof Experts
Our team bring years of experience and professionalism to the job, whether you need roof repairs, roof replacement, new roofs, roof extensions or roof maintenance.
Allcoast Roofing offers professional advice and service from the best roof plumber available, for all your roofing and guttering needs.
Just like any other part of the house however, your roof requires regular maintenance to keep it healthy.
When it comes to maintenance, metal roofs win hands-down. Unlike tiles, metal roofing is installed in large sheets. That means there are far fewer nooks and crannies for mould and mildew to take hold.
We use and recommend Industrial Roof Coatings.