Roof sarking peeling off?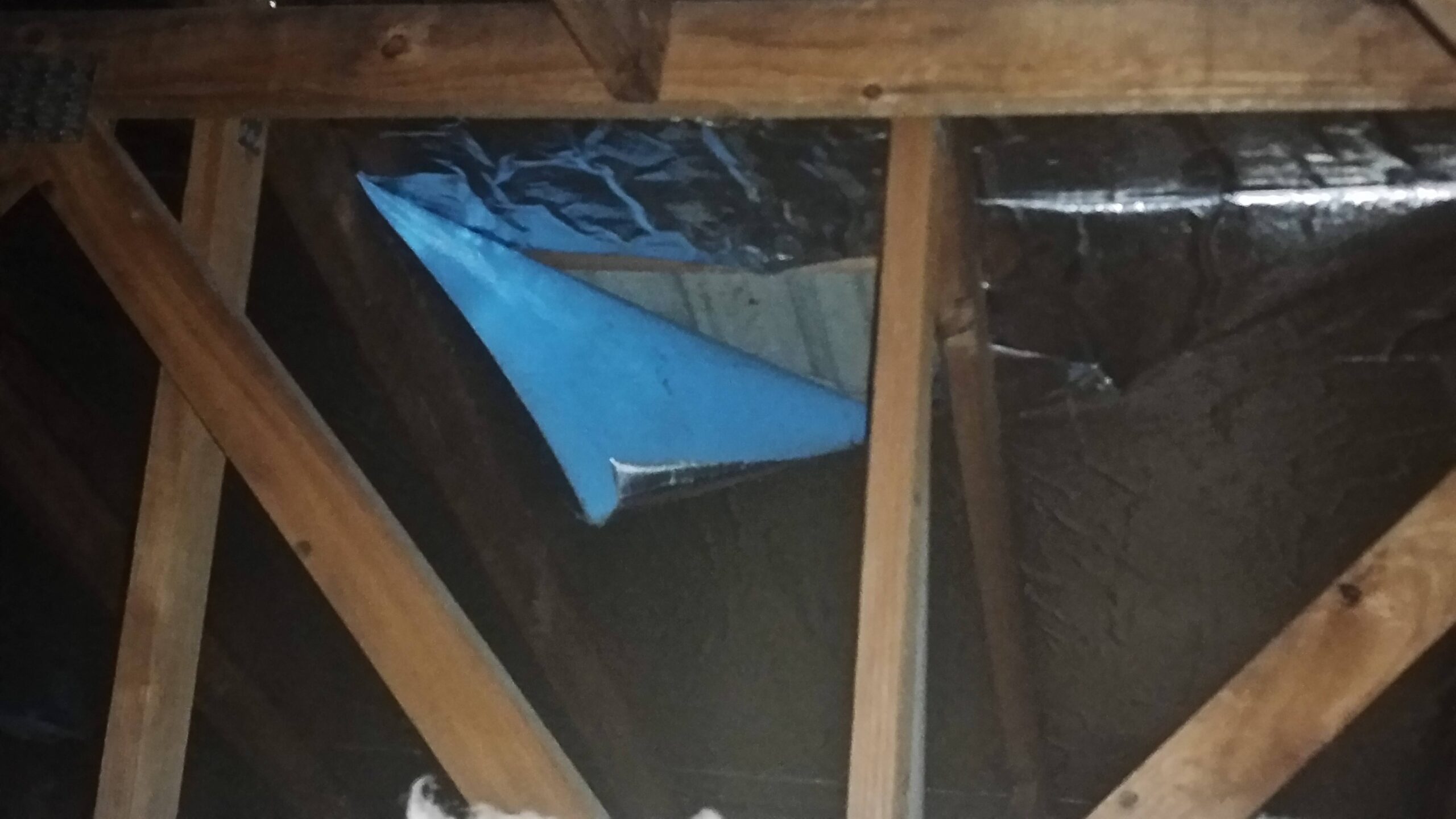 A homeowner asked "is this roof sarking peeling off?"
I've installed a lot of sarking!
You need to apply the special shiny silver insulation tape that is sold especially for taping reflective foil laminate (sarking).
It is really sticky and most importantly reflective, long-lasting and it maintains the integrity of your sarking layer.
Here is a photo of the tape we use. It won't break down or delaminate, it sticks to wet surfaces, is stickier than cloth duct tape, and withstands a large range of temperatures from -30% to 100%.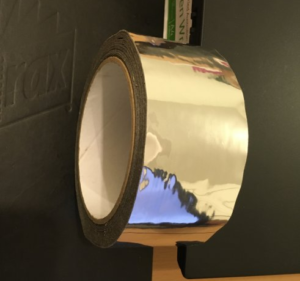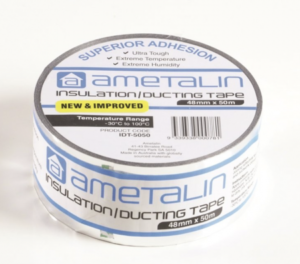 Is it just a matter of taping the edges? Do I need to put anything on the inner part too to stick them up?
You just smooth the bottom layer over the top layer and run the tape longways along the edge of the overlap so it goes half on each side.
You could hold it in place with a couple of little sections of tape, but replace them when you get to that bit with the tape roll.
Once the edges are taped and securely in place you could run another line of tape to offset each side to widen the taped join if you like.
Bare hands are best as the tape sticks very strongly to silicone gloves!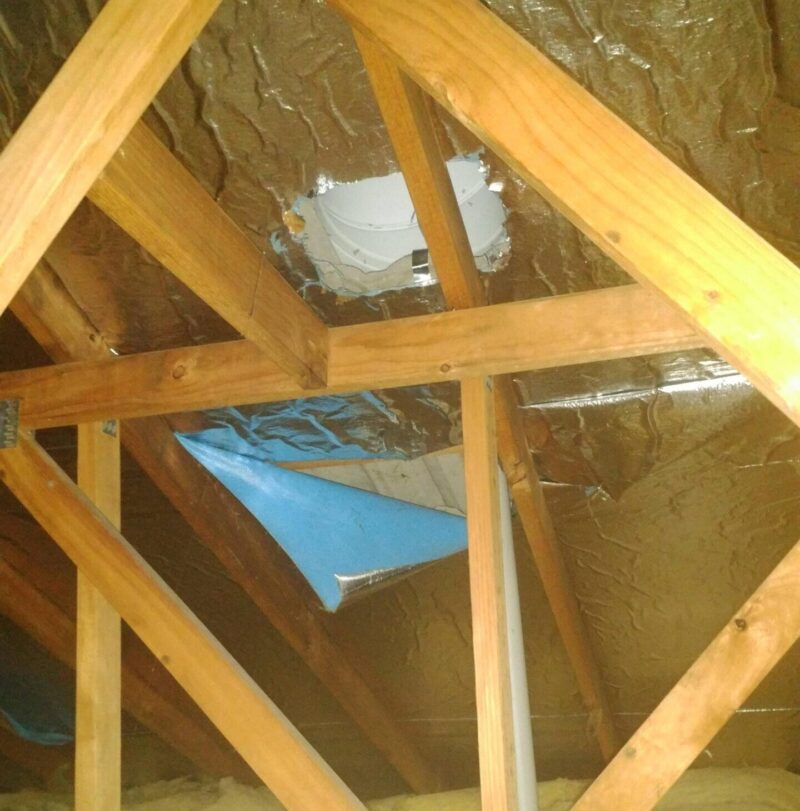 What might be the reason that this happens to sarking?
It looks like it wasn't taped in the first place. It's probably more important on a metal roof as the taping ensures the condensation doesn't drip on the ceiling. But has benefits for tiled roofs too, eg. drafts and radiant heat.
Sarking is now mandatory in building. Installation of sarking has been a standard practise since 1996.
Our Services
Or fill in this form and we'll call you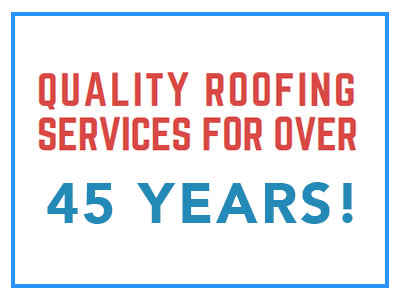 Got Wayne and his team to do a roof restoration and minor repairs.Great job, communication was excellent (the weather wasn't... read moreGot Wayne and his team to do a roof restoration and minor repairs.Great job, communication was excellent (the weather wasn't kind) and very professional. read less
David Williams
11/09/2021

Wayne and his team did a fantastic job. My roof looks fab. Highly recommend
Jenni Summer
9/28/2021

I would definitely recommend this business. Prompt, professional and my roof looks great. The price was very good and the... read moreI would definitely recommend this business. Prompt, professional and my roof looks great. The price was very good and the service was exceptional. I am very happy with all my dealings with this company and the results I got. read less
Lorraine Burkin
9/28/2021

Wayne and his team from Allcoast roofing service did a fantastic job of restoring and re-painting our roof. They... read moreWayne and his team from Allcoast roofing service did a fantastic job of restoring and re-painting our roof. They turned up on time and got to work and did a fantastic job. We are thrilled with the outcome and would highly recommend them. Our place looks like a new home!! Thanks guys for a great job. read less
Jim Horton
9/28/2021

Wayne and his team did a fantastic job. My roof looks fab. Highly recommend
Jenni Summer
9/23/2021

I would definitely recommend this business. Prompt, professional and my roof looks great. The price was very good and the... read moreI would definitely recommend this business. Prompt, professional and my roof looks great. The price was very good and the service was exceptional. I am very happy with all my dealings with this company and the results I got. read less
Lorraine Burkin
9/23/2021

Wayne and his team from Allcoast roofing service did a fantastic job of restoring and re-painting our roof. They... read moreWayne and his team from Allcoast roofing service did a fantastic job of restoring and re-painting our roof. They turned up on time and got to work and did a fantastic job. We are thrilled with the outcome and would highly recommend them. Our place looks like a new home!! Thanks guys for a great job. read less
Jim Horton
9/15/2021

We recently had our roof restored and repainted and couldn't be happier with the results. Wayne was always very responsive... read moreWe recently had our roof restored and repainted and couldn't be happier with the results. Wayne was always very responsive and professional. Highly recommend Allcoast Roofing! read less
Tabitha Lauret
8/28/2021